Results from OPB's Environmental, Social, and Governance Feedback Survey
December 08, 2022
OPB believes that a strong commitment to progress and transparency around issues of social responsibility, the environment, climate change and good governance are important to our role as owner of the Public Service Pension Plan's assets. We believe companies and investment managers that effectively address environmental, social and governance (ESG) factors are more likely to improve shareholder value over the longer term, which in turn provide long-term sustainability for pensions for members like you.
In the spring, we invited members to complete a survey designed to help us better understand what ESG-related issues and topics matter most to them. Thank you to everyone who participated in the survey. We appreciate your feedback.
By providing us with this insight, we can ensure that as OPB and our investment manager, the Investment Management Corporation of Ontario (IMCO), make progress towards addressing ESG within our portfolio, we know which key concepts, topics, and issues that we can help educate members on. For example, last month we released an article to help members understand IMCO's net-zero interim target methodology, as well as the idea of investing the portfolio in climate solutions.
As promised, we are sharing findings from the survey results.
Importance of ESG
73% of respondents believe that ESG should be an important consideration for the Plan.
23% of those respondents thought ESG should be a a primary focus.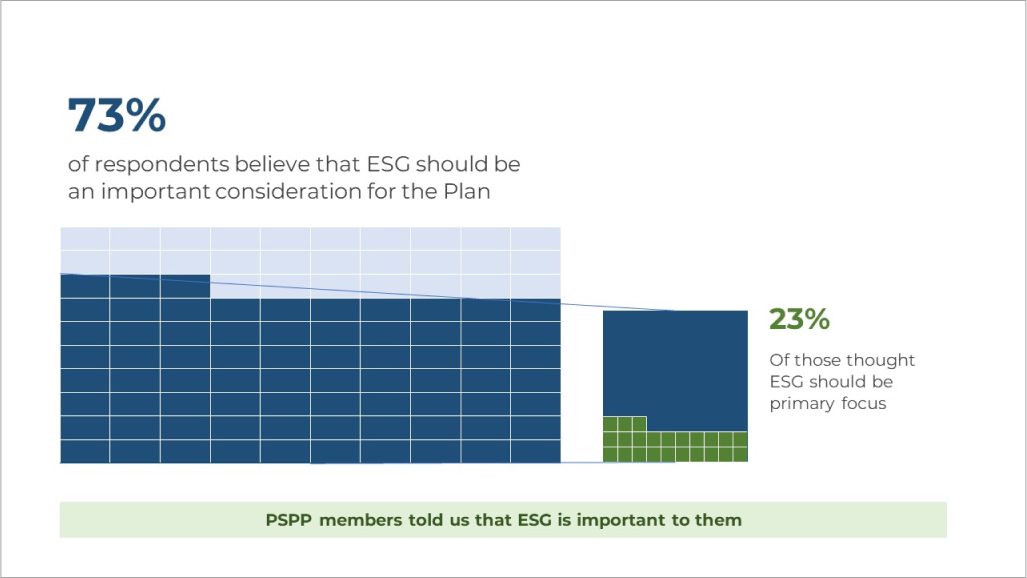 Familiarity with ESG
55% of respondents said they feel familiar with ESG investing, of which 41% were somewhat familiar and 14% were very familiar.
45% of respondents said they do not feel familiar with ESG investing, of which 14% are not very familiar and 31% are not familiar at all.
22% of respondents were aware that OPB and IMCO, OPB's investment manager, have committed to reaching net-zero emissions in the investments.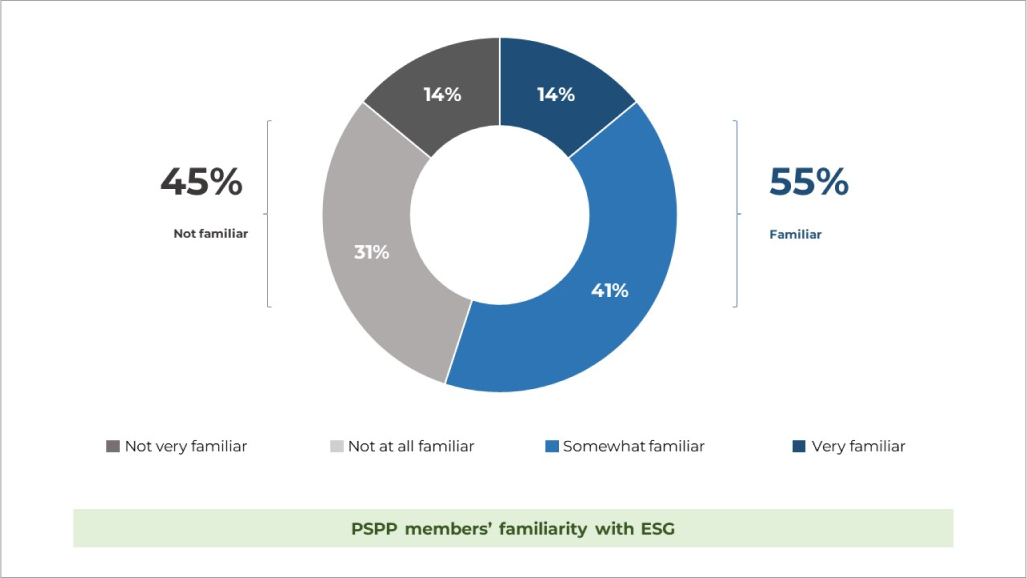 Investment strategy focus
50% of respondents feel that both strong returns and making a positive impact are equally important considerations for OPB's investment strategy.
27% think focus should be primarily on investment performance.
23% feel that focus should be on avoiding investments that have negative social or environmental impacts.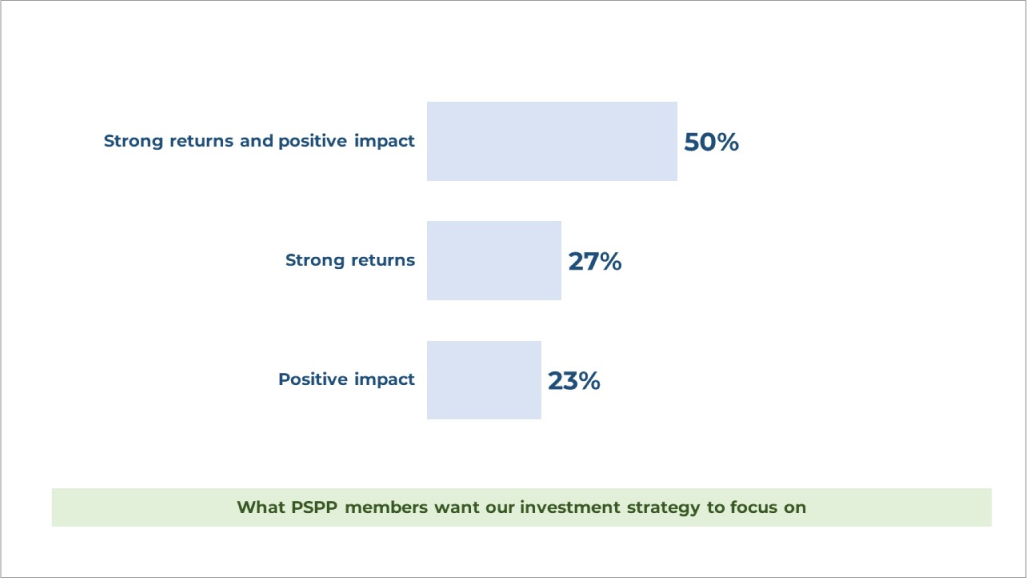 ESG investment priorities
Respondents were most likely to rank environmental protection (39%) in their top three most important considerations for investments, followed closely by climate change (38%) and human rights (34%). Other prominent considerations included business ethics (26%), good corporate governance (24%) and labour standards (23%).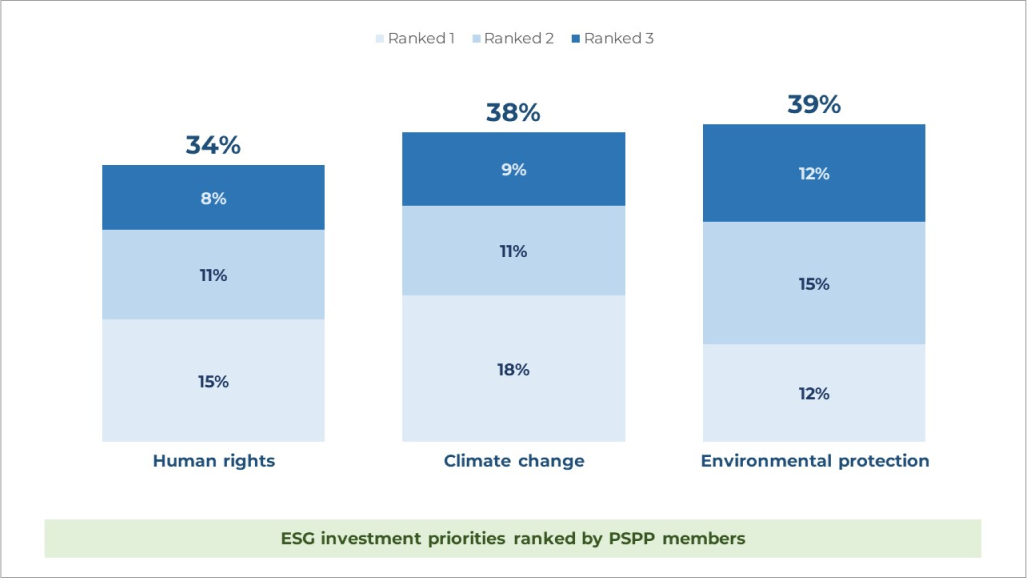 Investments we should avoid
40% of respondents were most likely to feel strongly that OPB should avoid making investments in thermal coal, followed by gambling (34%), fossil fuel extraction or refining (32%), palm oil (28%) and factory farming (26%).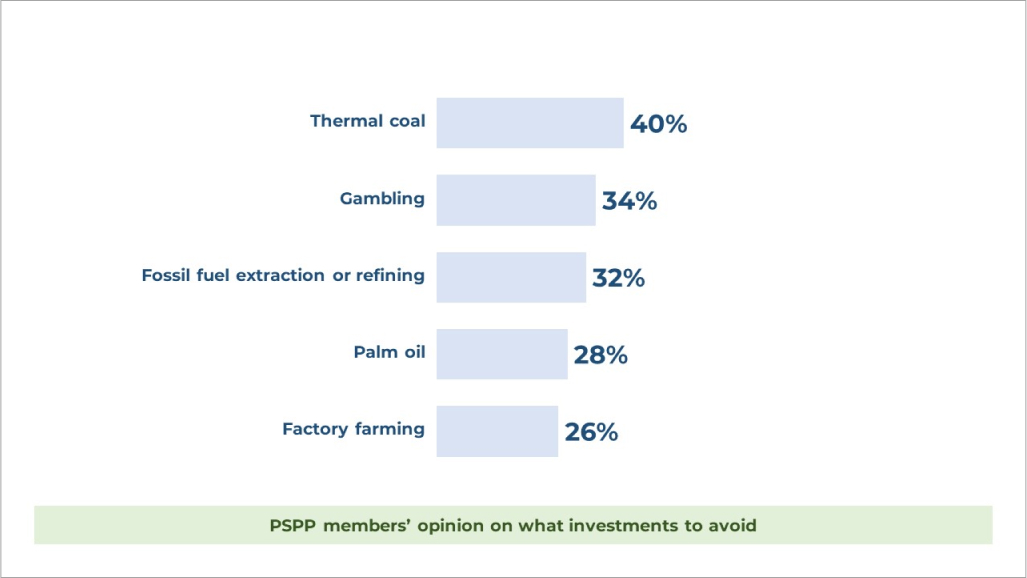 How members want to stay informed
84% of respondents want to stay informed about how their pension is invested and OPB's approach to ESG. Among those who want to stay informed about how their pension is invested, the majority would like to learn about it through the annual report (58%), followed by articles on the OPB website (47%), a dedicated ESG report or section on the OPB website (42%) and e-alerts (42%).
Topics members want to learn about
Members who want to stay informed on the Plan's returns (81%), ESG issues OPB & IMCO are prioritizing (59%), significant ownership positions (53%), positive impacts investee companies are making (49%) and the influence OPB & IMCO are having (40%).
Our next steps
With your valuable feedback in mind, we are committed to improving our communications strategy and transparency on ESG issues with you. We also have plans to enhance the ESG sections of our website on an ongoing basis.
To get the latest updates on our progress, including being notified of future feedback opportunities, log in to e-services
(opens in a new tab) (or register
(opens in a new tab) ) and sign-up for e-alerts to receive e-alert notifications to your inbox.
Actions taken
While it's important to look ahead, we also want to highlight the steps that OPB and IMCO have already taken in our commitment to ESG.
OPB introduced a new policy for ESG investment issues, with a particular focus on climate change, that was adopted by the Board in 2021.
IMCO joined the Paris Aligned Investment Initiative on climate action and committed to achieve net-zero alignment by 2050 or sooner.
IMCO released it's 2030 net-zero interim targets in November.
IMCO is a founding and Steering Committee member of Climate Engagement Canada.
IMCO established a three-year ESG Climate Action Plan and climate change strategy.
Learn more about OPB's approach to ESG
Learn how OPB and IMCO are aligned in our commitment to responsible investing on the Environmental, Social and Governance

(opens in a new tab)

section of our 2021 Year-in-Review website.
Read about IMCO's inaugural ESG Report, which provides additional transparency around how IMCO is integrating ESG into its investment practices and the progress they've made so far.
Read our response to a letter we received from five of our members who wanted to better understand how OPB and IMCO are managing climate change risk.